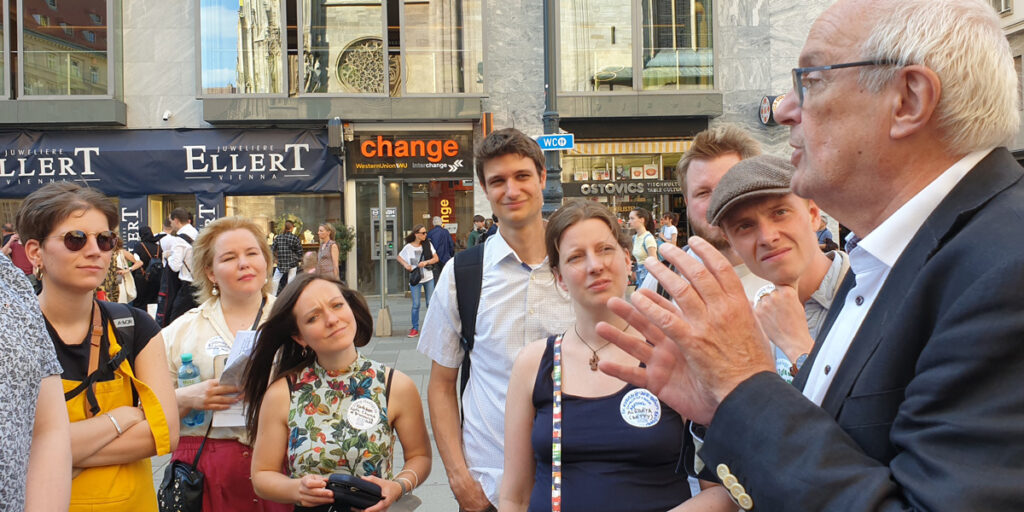 Forum Young Theology in Europe met in Vienna
With much praise and fresh impetus, 22 young theologians from 12 countries look back on an eventful meeting of the Young Theology in Vienna in May 2022. The topic sounds rather difficult: "Protestantism between nationalism and cosmopolitanism". Is there nationalism in the Protestant Church? "Yes," says Volkmar Ortmann, Privatdozent in church history at the University of Giessen, Germany.
"The Protestants are not everywhere as cosmopolitan as they like to claim." That has a lot to do with the local historical developments. Ortmann, who organised this conference of the Protestant Federation of Hesse together with European partners, knows that Protestantism in Europe shows many traditions of its own, up to and including nationalistic currents. "But," adds his colleague Mirijam Sauer, "language, nationality and identity naturally belong closely together." Thus, Protestant minorities, as in Transylvania, find strength through their cultural imprint with their own identity.
And because identity is far from being nationalism, the conference team developed the term "toxic nationalism" and distinguished it from "national identity": "We can't help it, says Anna Lerch from Switzerland, "where we were born, what language we learned first and what costume we wear at festivals", but she is of the opinion that we are responsible for ensuring that this healthy "national identity" does not become toxic.
Strong personal impressions
Lawrence Urbain from Belgium, a country with many nationalist political problems, learned at the conference that it is possible to maintain one's own identity, i.e. culture, language, nationality and gender or sexual orientation, "without excluding each other". He takes home with him the idea that the Protestant churches are united in diversity despite their differences.
Juliette Marchet from Alsace was surprised how easy it was to discuss with people from other cultures and theologies. "On the one hand I am proud of my church and on the other hand I feel more European than before." Now, she says, she is ready to address the issue of nationalism in her church in Alsace-Lorraine.
Vittorio Secco from the small Italian Waldensian Church found it particularly helpful to "look at the issue through the lens of a minority church". And Anna Ravn from Denmark was very impressed by the fact that 22 different people with different cultures and backgrounds were able to "connect so much in such a short time".
As their personal outcome of the meeting, some participants wrote sentences like these: "We need to work more with other Protestant churches, especially in the forthcoming time. Europe is on trial and so are the churches." Another person wrote: "I especially liked the fellowship among the participants. It was a great time to get to know each other, the diversity of Protestant churches in Europe, what we have in common and what we don't have." And a third voice encouraged, "So I think this is an issue we need to keep working on."
Young theology meets online and in Transylvania in 2023
In the Young Theology Forum of the Protestant Federation of Hesse, young Protestant theologians have already been exchanging ideas online in a Digital Academy since November 2021. The results of the conference are currently being compiled and include teaching materials, a song on the topic and a list of Bible passages that are suitable for sermons on the topic of nationalism and cosmopolitanism. The participants also have worked out nine theses for an inclusive identity in Christ. The Protestant Federation has provided the participants with an internet cloud where they can collect and process their results.
An important project partner of the Protestant Federation of Hesse is the Community of Protestant Churches and Europe (CPCE) based in Vienna, which accompanied the conference intensively and with great expertise as well as the best local knowledge. The date for a follow-up conference has already been set for 12 to 15 April 2023 in Romania. The other project partner, the Center for Protestant Theology in Eastern Europe (ZETO), will invite participants to Sibiu. Until then, the participants will continue to meet via zoom in a Digital Academy and stay connected in a WhatsApp group, as they did before the Vienna conference. The European Union supports the international exchange through its Erasmus+ programme and covers most of the costs.
Asbjørn Lauridsen from Denmark sums up how much momentum and how many new ideas the participants bring back to their churches and countries like this: "The EU is a strong foundation on which our churches can build."