I was born in an atheistic family. God came into my life only 4 years ago. To deepen my knowledgde about religion, I started studying at the Faculty for Protestant Theology and Religion Studies (FPTR) in Brussels. In the Master programme, we worked during this academic year around the themes 'identity' and 'polarisation', which are closely linked to the general topic of the Youth Theology conference in Vienna.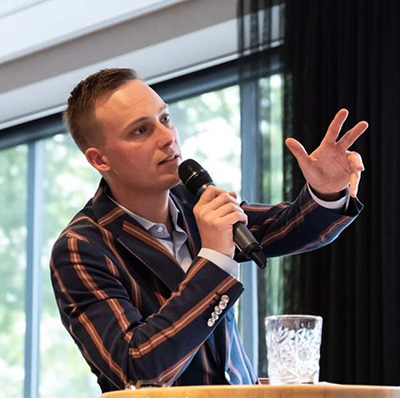 Before studying theology, I finished a Master in International Relations and Diplomacy at the University of Antwerp (2013). Currently working in a European Institution, I am familiar with the ongoing discussions about cosmopolitism versus nationalism. For this reason it's very interesting for me to see how my academic backgrounds from the fields of political science and theology are coming together during this conference.
The United Protestant Church in Belgium (VPKB/EPUB), from which I am a member, shows furthermore that it is possible to merge several Protestant denominations in one broader church, to be open to the world and work together with people using different national languages (Dutch, French and German), in a country where nevertheless nationalistic tendencies are popular in the political polls.